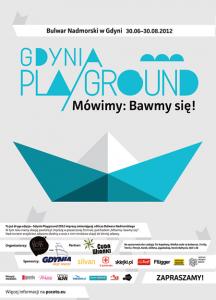 "Mówimy: bawmy się!"
- pod tym hasłem odbędzie się druga edycja letniej imprezy-wystawy Gdynia Playground 2012. 30 czerwca na Bulwarze Nadmorskim pojawią się obiekty zabawne i intrygujące - wielki Tetris, pstryk dla dwojga, korek bałtycki i hit zeszłego lata - stół piknikowy +30. Wszystko po to, by bawić się, a nie nudzić.
Gdynia Playground 2012 to akcja, której celem jest zachęcenie mieszkańców Trójmiasta, turystów, przechodniów i spacerowiczów, by spędzili czas wolny nad morzem w inny niż zazwyczaj sposób.
Pomorskie Stowarzyszenie Projektantów PoCoTo, organizator akcji, umieści na gdyńskim Bulwarze Nadmorskim obiekty, które zaskakują, angażują, skłaniają do wspólnej zabawy na świeżym powietrzu, a przy tym kształcą estetyczną wrażliwość użytkowników.
Interaktywne instalacje ustawione zostaną na trasie gigantycznego toru kapslowego, który rozciągać się będzie wzdłuż całego bulwaru. Gracze przypomną sobie tę popularna grę z dzieciństwa, a pokonując meandry toru dotrą do kolejnych obiektów wystawy. Będą to między innymi:
- łódka orgiami, które przełamią nudę na bulwarze i skłoni do składania własnych z ulotek wystawy;
- gra w klasy 3:4:Ry, nieco już zapomniana, warto więc pokazać ją dzieciom;
- Tetris – gra na miarę ludzkich możliwości, bo można w nią grać własnym ciałem;
- Pstryk do zabawy w przeciąganie dla dwojga;
- Kalejdoskop-Zgadoskop ze zdjęciami zamiast kolorowych szkiełek;
- GRAma do układania własnego wzoru z pikseli.
Ci, których zmęczy zabawa, odpoczną przy stole piknikowym, jeśli tylko zdołają wdrapać się na ustawione przy nim krzesła, albo zażyją kąpieli tuż obok wielkiego bałtyckiego korka.
Wystawa, którą w tym roku udało się zorganizować w poszerzonej formule dzięki współfinansowaniu ze środków Urzędu Miasta Gdyni a także przy współpracy z AKUKU SZTUKĄ, startuje 30 czerwca. Tego dnia będą jej towarzyszyć dodatkowe wydarzenia. Podczas Akcji PIKNIK organizatorzy opowiedzą o imprezie i swoich instalacjach, MOZAJawKA to wspólne tworzenie mozaiki i fresków przy użyciu nietypowych materiałów, a na Warsztatach Kalejdoskopowych uczestnicy będą kreować własne wizje świata za pomocą tuby, lusterek.
Instalacje Gdynia Playground 2012 pozostaną na Bulwarze Nadmorskim do 30 sierpnia.
Poniżej link do fotorelacji z eventu fot. Grzegorz Dulas
http://pocoto.eu/projekty/gdynia-playground-2012-2/